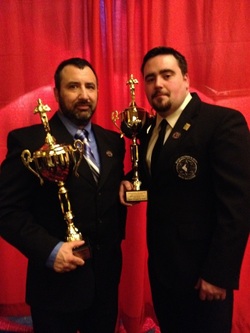 Master Robert Suchocki and I were honored at the Action Martial Arts Magazine Hall of Honors this past weekend, at the Tropicana Resort in Atlantic City.
We both received awards for 20 years lifetime contribution to the martial arts.
It was an honor to be recognized among some the greats in the martial arts, many of whom we met and will have pictures up on
facebook
.
I want to thank my family who signed me up for karate at a young age, brought me to and fro, and always supported me. My lovely wife who has hung with me through our endeavors, and despite being pregnant stayed up late taking photos at the hall of fame dinner! And Master Suchocki for his loyalty and friendship.
-Master Brooks